Preparing Your Pipes for the Next Winter Storm in Texas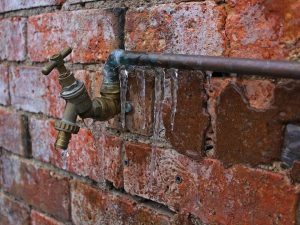 Freezing rain, heavy snow, and occasional blizzards — winter storms often bring catastrophic weather conditions to the Lone Star State. Amidst the power outages and the frozen roads, Texas natives also face increased risks of property damage, particularly when it comes to their home's pipes.
When the temperatures outside drop, the chances of a homeowner's pipes freezing and bursting soar.
Fortunately, there are simple ways to keep your water running, your house dry, and your property protected during even the most unruly hard freezes in Texas.
Before the Freeze
Drain water from sprinkler supply lines
Draining water from your sprinkler supply lines prevents it from freezing and expanding, which could lead to burst pipes. Regardless of whether you use a manual drain valve, an automatic drain valve, or compressed air blow-out methods, you can avoid significant damage to your property by emptying your pipes ahead of time.
Insulate pipes located in attics, crawlspaces, and basements
Pipe insulation helps keep your pipes from losing heat to the surrounding air — in turn protecting them from freezing in frigid temperatures. When preparing for a winter storm, it's critical that you use pipe insulation to maintain the temperatures in areas prone to large air leaks, such as attics, crawlspaces, and basements.
If You Have Damaged Pipes
Weatherproofing your home in time for the winter season is the best way to beat frozen pipes. But Texas storms can be unpredictable, and wind, rain, and snow can still find a way to do their damage to your property.
In 2021 alone, Texas winter storms accounted for over 500K insurance claims, with $5.8 billion in estimated losses.
If your pipes are broken or damaged, you should promptly contact your home insurance company to file your claim.
Stay Protected With Home Insurance at RG Insurance Agency
If you're concerned about potential damage to your Texas home from harsh winter storms, purchasing home insurance ahead of time can put your mind at ease.
At RG Insurance Agency, we have affordable insurance policies that protect your property in the event of a disaster. We also offer discounted policy bundles to allow you to easily cover all the valuable investments in your life, no matter if the weather calls for rain or shine.
To learn more about our home insurance options, fill out our form to get a quote today.