Do I Need Insurance for My Travel Trailer?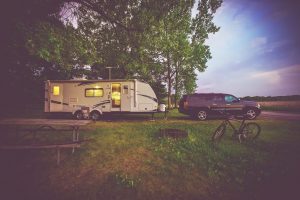 As summer grows near, many Americans are starting to plan vacations. If you have a road trip on your list, you may choose to incorporate a trailer into your plans. But does this mean you need additional insurance?
Is Trailer Insurance Required?
Trailer insurance requirements vary from state to state, but in Texas, non-motorized vehicles, including trailers, are exempt from liability insurance. That said, trailer insurance, which can cover damages such as liability, theft, and vandalism, is still recommended, especially if your trailer is of significant value. This recommendation is underscored by the fact that trailers are often parked on campsites where flooding, strong winds, or other natural damage may take place, including damage by wild animals. Additionally, if you drive your trailer over rough terrain, it may further compound the risk of damages.
Trailer Insurance Costs
Much like in the case of auto and home insurance, trailer insurance costs depend on the value of the trailer and the contents that are being transported within it. Although small trailers that are only towed for additional storage may be insured at a very low rate, larger trailers with living space may fall into ranges similar to auto insurance.
How to Insure a Trailer
Even though a trailer is towed by your personal vehicle, it is generally not covered under basic auto insurance. However, most major insurance companies offer packages that can cover a trailer. The best way to begin is by discussing the trailer insurance with an insurance agent in order to evaluate risk and decide how much coverage is most appropriate.
RV Insurance
Because RVs are motorized vehicles, they are required by Texas law to be insured. To keep family members, possessions, and the trailer safe, a solid insurance plan should be selected for accident, damage, and theft coverage. Depending on the contents of the RV and the conditions in which you plan to drive it, additional insurance may also be beneficial.
Traveling and vacation are all about peace of mind, which may be hard to maintain if your trailer isn't properly insured. For more information about our recreational insurance offerings, get a quote today by calling RG Insurance Agency at 956-702-2705.