How to Stay Safe During a Cross-Country Motorcycle Ride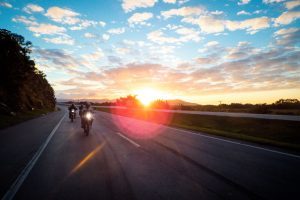 One of the most important factors to consider when taking your motorcycle out for a long-distance ride is safety. Riding cross-country involves a lot of risks, but it's very doable with the right mindset and approach. Learn the ways you can stay safe on your motorcycle the next time you decide to take it out for an extra-long ride.
Make the Right Preparations
Stay safe during a cross-country ride by preparing both yourself and your bike. Start your trip off on a high note by having quality insurance. You want to make sure you're protected, should anything happen to you or your mode of transportation on your adventure. Choose a bike that has a strong engine and can adequately handle different types of terrain. Inspect your bike and take it to get a proper tune-up before you depart so that you can check the tires, oil and filter, and fluid levels.
Take the Time to Train
It's in your best interest to test any new gear or accessories you have for your trip before heading out on the road. Training for your journey is going to help you have a more successful and enjoyable time away. This includes taking steps such as riding in your free time to get familiar with your bike, adjusting your diet for proper nutrition, and exercising and building muscle, so you're physically fit to operate your motorcycle.
Plan and Pack Appropriately
When riding cross-country on your bike, you never know what type of weather you're going to encounter. Therefore, look ahead to the expected weather conditions and make sure you have plenty of layers in your bag. There's also proper safety gear you need to wear, such as a helmet, eye protection, and a riding jacket. Most importantly, plan out where you're going in advance. You can then share your itinerary with others and also better know your limits so that you can stop and rest when necessary.
Are you thinking about taking out your motorcycle for a long-distance trip cross-country? The experts at RG Insurance Agency can get you a quote for the policy that will keep you prepared and safe on any journey you might take. Contact us today to learn more about our various coverage options, from motorcycle to auto, home, and life insurance.