A Life Insurance Guide for New Parents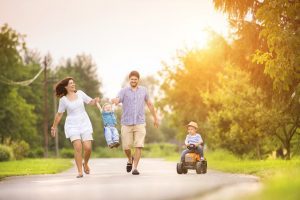 If you've recently started a family, the increased responsibility can be daunting, if not outright overwhelming. Between baby-proofing your home and planning for your child's college education, there are decades of exciting uncertainties to prepare and plan for. One essential item that can be quickly crossed off the new parent to-do list is obtaining life insurance. There are several primary considerations new parents should be aware of when purchasing life insurance. An experienced life insurance agent can help walk you through the details and answer any questions.
Why You Need Life Insurance
Life insurance is one of the most affordable ways to guarantee that your children are financially provided for in the event of your death. Both parents should have a policy in place that will cover a predetermined amount of expenses. Make sure you buy enough insurance to cover not only the cost of daily living but also future expenses, like college tuition.
Term Vs. Permanent
Life insurance policies generally come in two varieties. A term life insurance policy lasts for a specific amount of time, usually a 10, 20, or 30-year period. If the insured passes away during the covered period, the insurance policy will pay out to the named beneficiary. Permanent life insurance, as the name suggests, is purchased for the rest of the life of the insured. Term life insurance policies are cheaper and more straightforward, a good choice for parents who want to make sure their children will be provided for before they're old enough to provide for themselves. A life insurance agent can help you decide which policy is right for you.
How Much Does Life Insurance Cost?
Life insurance costs can vary considerably based on the type and amount of coverage. Health factors such as age and whether the policyholder is a smoker will also factor into the total cost. Many purchasers are surprised to find out that women typically pay less than men for life insurance. This often holds true for other types of insurance, like auto insurance, because men are, statistically, a higher risk for insurers.
Whether you are looking to purchase a term or permanent policy, an experienced life insurance agent at RG Insurance Agency is here to help. We will help assess and explain the options available to you in a transparent and efficient manner. Call us at 956-702-2705 for more information, or get a quote online today!