How Mobile Home Insurance Differs From Standard Homeowners Insurance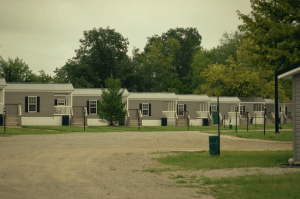 The main difference between mobile homes and traditional homes is that the former are built off-site and transported on a moveable chassis to a residential plot of land, while the latter are built on-site, typically on a permanent slab. Because of their unique construction, mobile homes may be more vulnerable to severe weather events, and they usually don't qualify for regular homeowners insurance. Instead, you'll need mobile home insurance to keep your property, possessions, and residents protected.
What Is Mobile Home Insurance?
Unless your mortgage company or mobile home community requires it, getting mobile home insurance is usually optional, but it's always a good idea to be fully covered. According to the U.S. Department of Housing and Urban Development, federal construction regulations have significantly improved the safety standards for mobile homes since 1976. However, these property types are still susceptible to fire, vandalism, burst pipes, and other threats, and they may be even more vulnerable to extreme weather conditions because of the way they are manufactured. A full-coverage mobile home policy will likely resemble a traditional homeowners policy but with a few differences involving the mobility of your home, such as if your home is damaged during a move.
What Does Mobile Home Insurance Cover?
Just like traditional homeowners insurance, mobile home insurance provides coverage against many of the most common threats to the body of your home. It also protects your personal property that may be lost or damaged in the event of an accident or theft, so it's essential to keep a detailed inventory of your possessions. Mobile home insurance also includes liability protection, which pays out if a visitor is injured on your property or if you accidentally cause damage to another's property.
What Determines the Cost of Mobile Home Insurance?
As with most types of insurance, the price of your mobile home coverage will depend on several factors. Where you live, the age of your home, and the initial cost of your property can all affect how much your policy will be. Your cost can also change depending on the types of coverage you need and any additional protections and policy options you add, such as flood insurance or protections for your outdoor property.
Homeowners Insurance in Pharr, Texas
An experienced agent can help you get the coverage you need to protect your mobile home. Serving families throughout the Pharr, McAllen, and Alamo areas, our team at RG Insurance Agency can help you get the most out of your insurance policy. Contact us today to learn more.