How to Help Protect Your Car From Severe Weather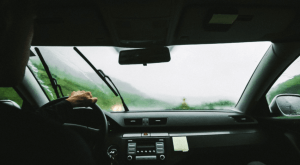 2020 brought the most intense hurricane season the Gulf Coast has seen, so prioritizing protecting property in the event of severe weather has quickly climbed to the top of many homeowners' hurricane prep checklists. Learn how to better prepare your vehicle in the event you experience flooding, hurricane-force winds, or dangerous loose debris in Hidalgo County.
Dangerous Weather to Watch Out For
In South Texas, we get our fair share of inclement weather. From fierce hurricanes to damaging hail and heavy flooding, our vehicles will bear the brunt of the harsh weather while\ we're safe indoors, so preparations need to include some sort of plan for protecting them. Clear away debris in drains to help prevent water pooling on your street or in your neighborhood, and avoid fallen power lines if you need to leave your home for any reason. Driving down flooded streets can push water into other homes and parked cars, so be cautious when driving during heavy rainfall.
Storm Preparation Checklist
Use this guide specifically for preparing the vehicles at your residence for a major storm or inclement weather:
If you have time for preparations, move your car off the street into your driveway or carport. If you have to park your car on the street, choose a parking spot away fromlarge trees, bushes, or telephone poles
In the event you need to evacuate at the last minute, fill up your gas tank as soon as you receive notification that a storm is headed toward your area
Check your car's lights and tires. Having strong tread and pressure is necessary should you need to drive in intense weather conditions
Check to make sure that your sunroof is completely closed and the windows are rolled all the way up
Purchase a weather-resistant cover or tarp to protect against airborne debris or hail
Steps to Take After Damage Occurs to Your Vehicle
You should always be prepared for some damage or inconvenience during severe weather, so protect your family and property from the unpredictable. If any damage occurs after a storm or other major weather event, RG Insurance Agency will be there to guide you through the claims process and help you understand your auto policy coverage. Our team will help you get the most affordable policy for your family's needs while providing professional, friendly service. Speak to an agent today to learn more about coverage options and flexible, convenient service.