What Happens If You're at Fault in a Car Accident in Texas?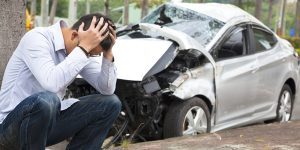 When you're at fault in an automobile accident, you might instantly begin to feel overwhelmed by the many thoughts running through your head. Is anyone hurt? How much will this cost? Who do I call? These questions, and probably several others, might come to mind. The best way to be prepared is to understand the law and your options. The following step-by-step guide can help with that.
Filing a Crash Report
If you are involved in an accident that does not have police involvement, you may need to file a crash report. Requirements for a crash report include recognizing if there are any injuries, deaths, or property damage valued at over $1,000. Legally, it is required that this report is submitted within ten days of the crash.
Identifying Responsibility
In Texas, the driver who is at fault is responsible for damages and can have a lawsuit filed against them. It's at this point that it's helpful to have liability insurance with your auto insurance policy. This type of policy can protect you from being responsible for any payments yourself, and instead, leave the billing to your insurance company.
Am I at Fault?
The first, and arguably the most crucial aspect, is not immediately to admit fault. Regardless of how clear you think the accident was, never claim liability without contacting your insurance provider. Often, you may not know the full picture or extent of the accident. You may even find that there are elements you are unaware of, such as impairment of the other driver, traffic signs you did not see, and road conditions that were unknown. Do not be reactionary and admit fault without an investigation taking place and considering the entire scenario.
This situation is a very stressful one to find yourself in, but RG Insurance Agency in Pharr, TX can help keep you covered no matter who is at fault. Our family-owned, fully licensed and insured business offers a range of policy options, including diverse full-coverage and liability options for auto policies. Contact us to get a quote today!